Wisconsin's Culture - Buffalo's Historian    
A historic property linked to the Civil War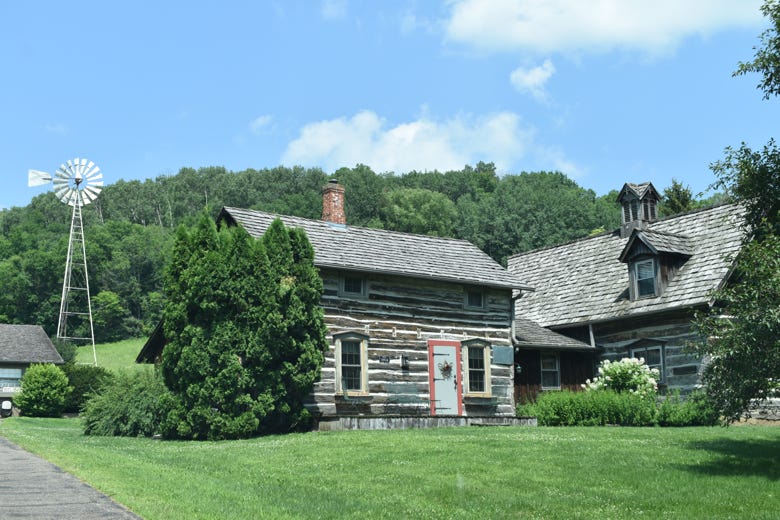 Judge Gary Schlosstein of Buffalo County is seen by many as the county's historian. The internet is well-fed with authentic stories about his interests and accomplishments. This is a brief story that is different but just as delightful. I draw your attention to W1586 County Highway (CH) KK, visible from the road.


By way of background, the judge was born in 1928, raised in Cochrane, schooled by Cochrane Elementary and High School, an Eagle Scout, trained by the US Army at age 17, and served as a court clerk. Using the GI Bill, he attended and graduated from the University of Wisconsin with a BS degree and Law Degree. He then served 32 years as a Buffalo County Circuit Judge. He founded the Castlerock Museum in Alma in 2003 to study and collect historical arms and armor.


This is not his only historical accomplishment. His property on CH KK reflects his interest in preserving the county's history. He has recovered and restored historic homes and brought them to his property, and placed them such that they are wondrous.


I spotted these structures while driving along CH KK, quite by accident, on one of my "get lost rides" through Buffalo County and the Western Upland Geographic Province of our state. At first, I thought maybe this was a hunting lodge, many of which are in Buffalo County.


Frankly, I left thinking it was a hunting lodge. On my return, I looked up the property address and found it was the judge's residence and property. So, in all honesty,


The property is in the Town of Modena—the first permanent settlement in what is now Modena was made in 1858. As bit grew, Modena contained a schoolhouse, stores, two blacksmith shops, a mill, and a post office. The first school opened in 1859 with 15 students and the teacher, Elizabeth Gilman.


The judge told me the buildings he brought to his property have a direct link to the Civil War.


This barn is on the property. I use it as my marker. I recall my first trip when I saw the barn. I was struck by what a beautiful setting it was in. Then I stopped and got a better look.


I next saw this log cabin house up on a knoll. It is attached to another structure. I think he called that attachment the "Greenery." I believe the judge told me this was his residence and that it was attached to the "barn," which makes it the second barn.


I told him I noticed the home was built in 1864. he confirmed that and said it was linked to the Civil War, built by a Norwegian man who was severely injured in that war.


When I took this photo, I did not realize I was looking at the backend of the home. You can see the barn's familiar look off to the left in this photo. There are also a few chairs in the "backyard," so to speak.


This photo is what made me think this was a hunting lodge, with its two private cabins.


This is a photo of one of the buildings taken from a different angle! The setting for all of this is pleasurable, almost dreamy.